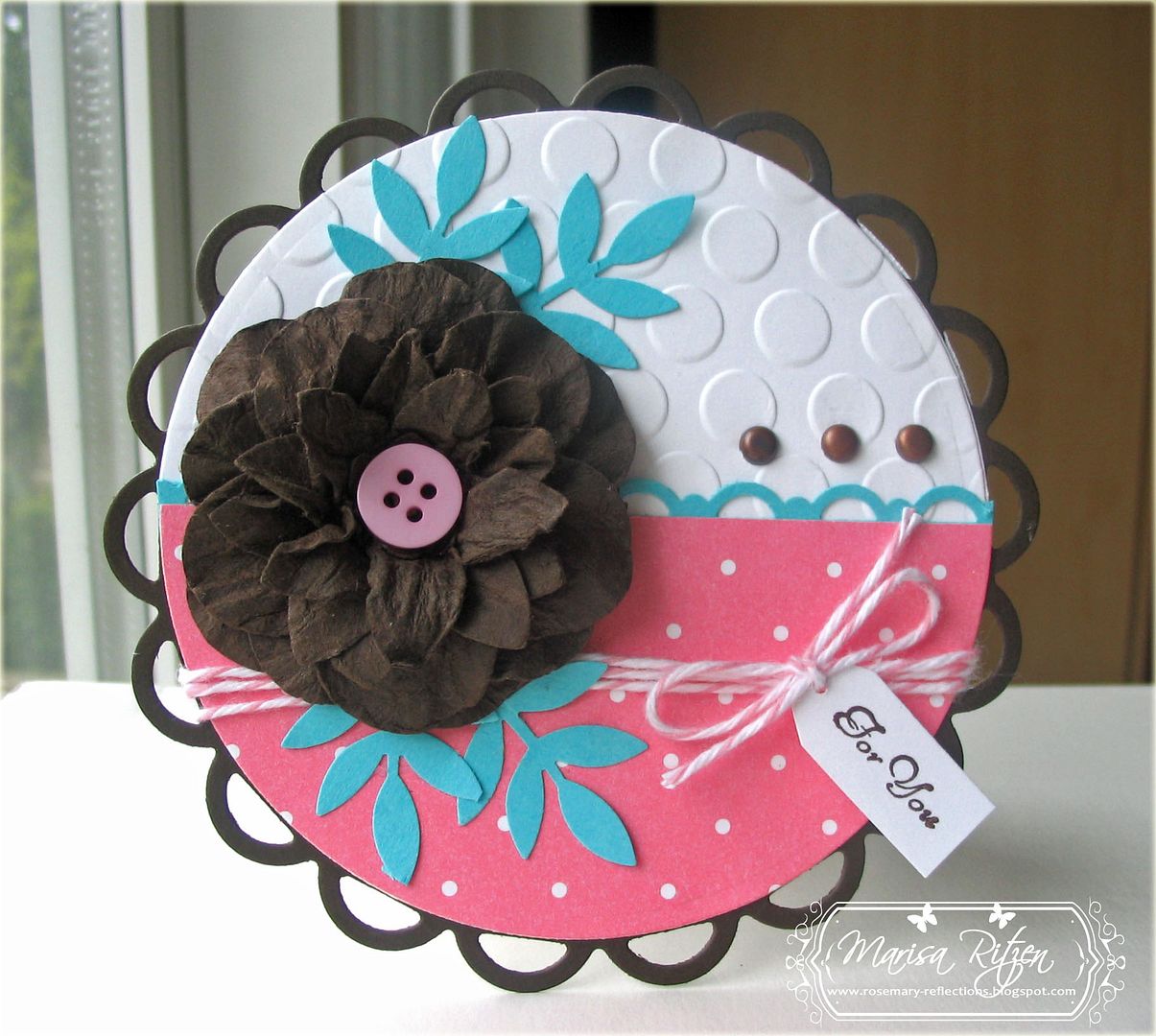 Get Your Diva On
challenge over on SCS. Amber provided a recipe we had to work with depending one the initial of our first name.
My recipe was as follows:
Embellishments: twine, buttons, brads
Colour Combo: brown, pink, turquoise
Layers/Shape: 4 layers or a circle shaped card
Phew - was a lot to keep in mind while making this card! There where many times when I thought to myself "Oh, this would look great on this card" only to have to stop myself as it wasn't in the recipe.
I stayed true to my recipe and made my flower based on
this
fabulous tutorial. Working with these colours was a bit tricky in that it is beyond strange making a brown flower and adding turquoise leaves LOL, but, once I was able to wrap my mind around it, I was good to go :)
Maybe I should have swapped out the colour category with one of the others, (we could switch one category as long as we used everything in the new category not just one item or colour) but thought of it too late and didn't want to start over so I stuck with what I had. Loved all of Amber's recipes so I just may have to try each one of them as a fun starting point for a card :)
Thanks for your wonderful comments and for supporting my little piece of blogland - you guys are the best (((hugs)))
What's In It?
Stamps: (SU) Fancy Flexible Phrases
Paper: Early Espresso, SU Regal Rose DSP, Turquoise
Ink: Chocolate Chip
Accessories: Lacy Circle and Circle Nesties, SU Flower Punches, Martha Stewart Leaf Punch, Seeing Spots Embossing Folder, SU Border Punch, Brads, Baker's Twine, Button, Glue Dots, Dimensionals