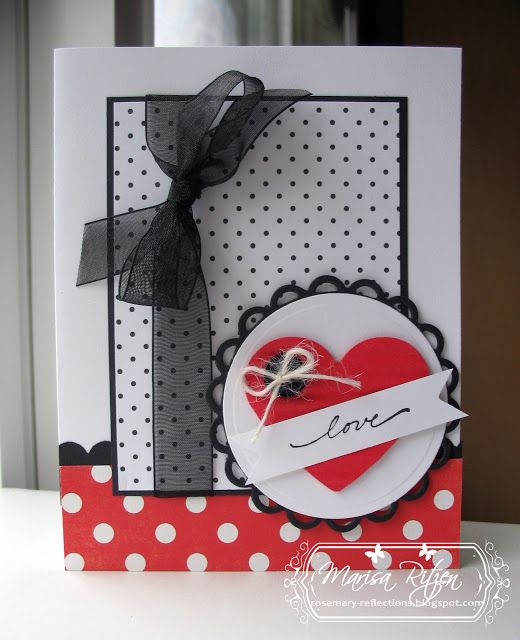 I loved this Mojo Sketch but didn't have time to play along before Christmas with the business of the season. So, I'm picking it up now, a month or so late, but a good sketch is a good sketch and just has to be used :)
The circle was tempting me horribly to use Verve's U die again, but since I've made three cards using it recently, I figured you needed a break and I needed to change things up a bit (though the call is still strong so I may very well go back and make another card using the U die with this sketch...I know, I'm hopelessly addicted LOL!).
This card was full of things I love: polka dots, hearts, lacy circle nesties, crimping, and a wonderful, bold colour combo that is always fun to use. Needless to say, I had great fun making this card :) May have to give it a while using pink instead of the red for a softer version.
Snow is all gone and it is rather strange seeing green grass again! Good news is soccer practices and games are back on and we are doing a happy dance as a family as it is an essential (at least in our eyes LOL) energy burner for my son who was bouncing off the walls for the past two weeks without it. He was a two speed baby - go and sleep - and is still that way to this day. Yeah for soccer LOL!
What's In It?
Stamps: Rubber Soul
P
aper: Dots and Stripes (Echo Park), Back to Basics (Bo Bunny), Real Red, Black
Ink: Black
Accessories: Lacy Circle and Circlel Nesties, SU Scalloped Border Punch, Marvy Heart Punch, Crimper, 5/8" Sheer Black Ribbon, Button, Twine, Glue Dot, Dimensionals