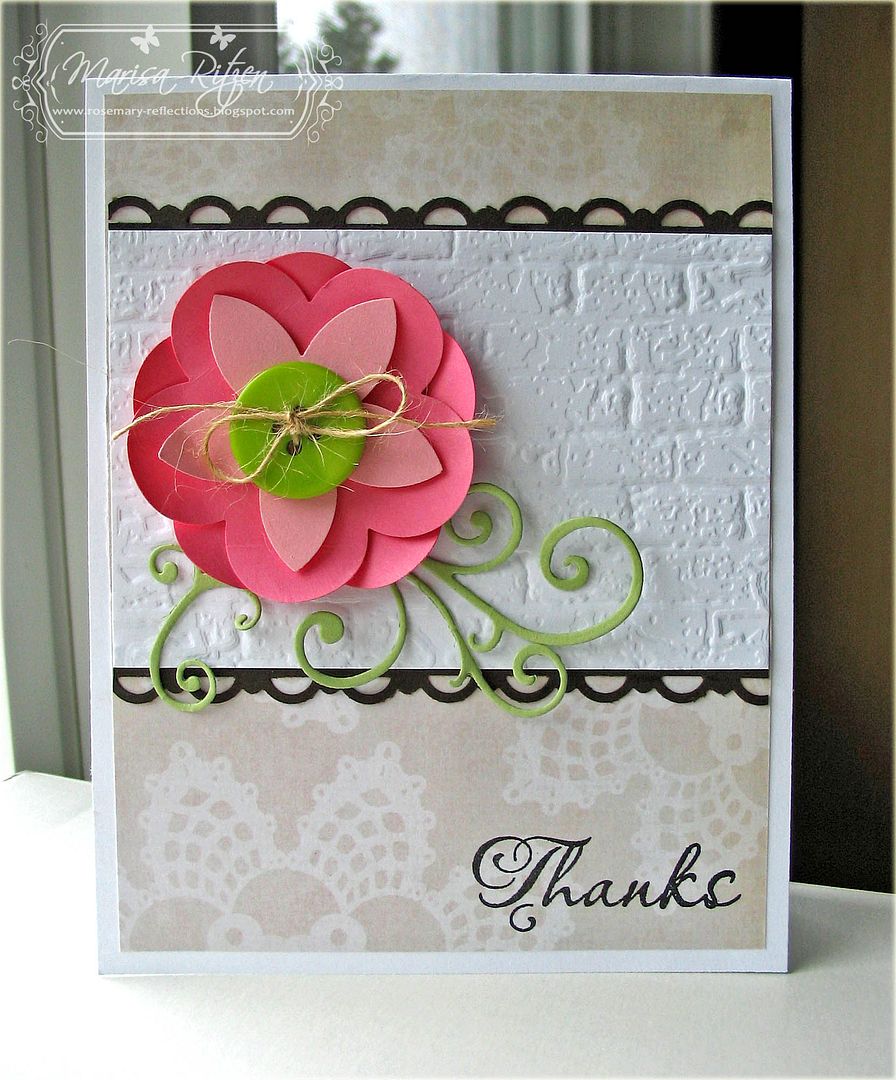 This week's Verve sketch is inspiration week too and Diva Maureen has selected this fun picture to work from.
I just love cherry tree blossoms (except when you park under one and you have cherry blossom petals spewing out of your vents for a few days LOL). We have many of them in our area, and at times it snows pink and often leaves a beautiful carpet of pink :)
I took quite a bit of artistic license with the sketch...sorry Moe! The bow element immediately reminded me of a butterfly so I die cut a few to try them out but it just wasn't working for me, so I decided to create my own "cherry blossom". Pulled out two old Stampin' Up flower punches and went to work. I curled the edges of the large blossom and added dimensionals to give the flower some "fluff" -- after all, cherry blossoms are fluffy ;) My brick embossing folder mimicked the white wall (if you look closely there is a brick pattern to the wall), and the green flourish is in lieu of the two vertical triangles.
We had a wonderful long weekend, and enjoyed our new provincial Family Day holiday! A mean game of Risk was had and then a wonderful sushi dinner :) Love hanging out with my family and treasure the times I have with my kids as they are growing upu waaaay too quickly!!
Thanks for dropping by today!
What's In It?
Stamps: Celebration of Thanks (Verve)
Paper: The Sweetest Thing (Recollections), Early Espresso, Rose Romance, Pretty in Pink, Certainly Celery
Ink: Black
Accessories: Flower Punches (Stampin' Up), Brick Embossing Folder (Tim Holtz), Flourish Die (My Favorite Things), Scalloped Border Punch (Stampin' Up), Button, Twine, Glue Dot, Dimensionals