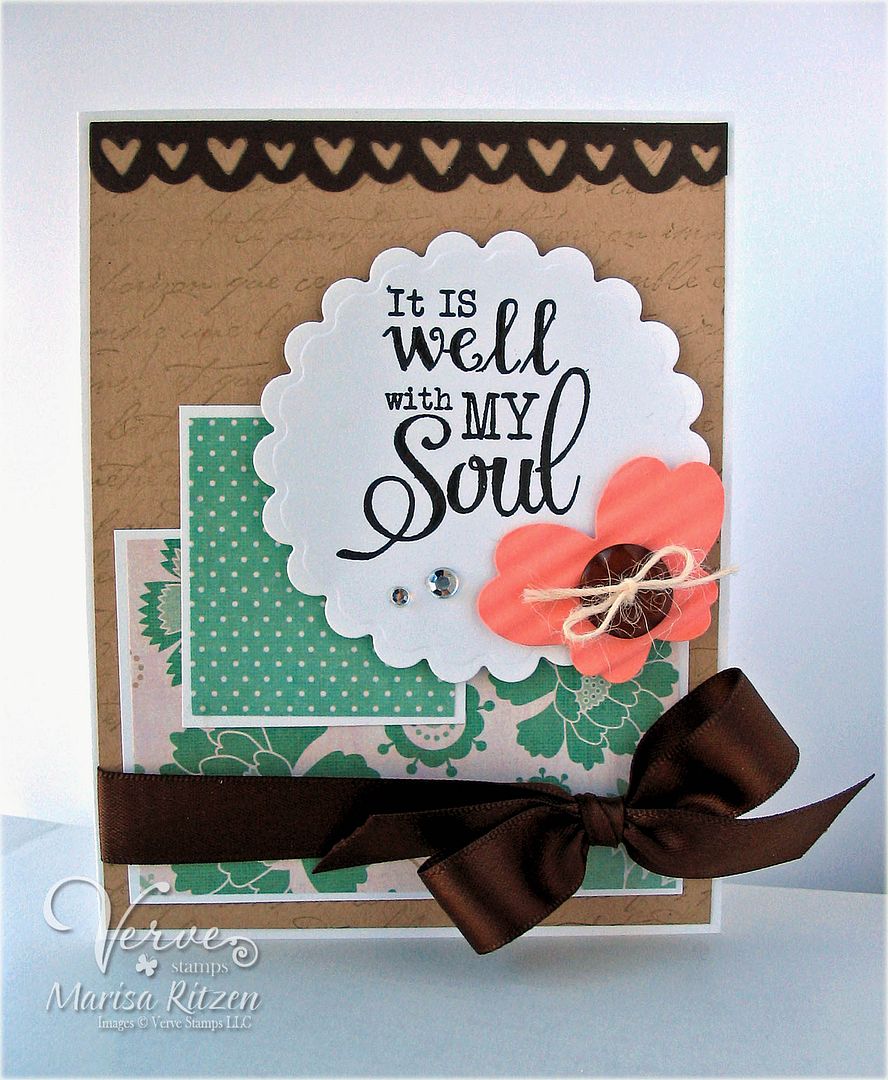 It 's the first Monday of the month so that means it's contest week over on the Mojo Monday blog!
This week's sketch is brought to us by Carole and it was a great one to work with. I know I say that just about every week, but it's true! Love Mojo Monday sketches :)
I knew I wanted to use this sentiment from
Surely Goodness
as it has been calling my name (loudly) since I first got the set. Needless to say, the fabulous hymn it is taken from has been my companion all day :)
Vaguely remembering a bit of the story behind why the hymn was written, I decided it was time to get the facts and this is what I discovered: The hymn was written from a place of deep, deep loss. Horatio Spafford lost his only son to Scarlett fever, then shortly thereafter, the real estate investments he had burned to the ground in the great Chicago fire wiping out his finances. With all the stress of the past year, the family decided to take a vacation to Europe. At the last minute, Spafford was detained by some business so he sent his wife and four daughters ahead and was to follow a few days later. The ship his wife and daughters sailed on collided with another ship at sea, and all four of his daughters drowned. Only his wife was spared. Upon receiving the news from his wife, he immediately boarded a ship to Europe to go and get her. While on the ship, he asked the captain to tell him when they were sailing past the area where the ship carrying his family went down. When the captain advised him they were near the location, he went to his cabin and penned this amazing hymn.
Here
is a You Tube link to the hymn if you want to give it a listen. Sorry for the tangent, but just had to share that bit of info as it brings great depth to the hymn and this sentiment :)
You can check out all the challenge details over on the
Mojo Monday
blog and also get a chance to view all the wonderful Mojo Makers samples! Should you wish more details on their cards, you can also visit their individual blogs noted below.
Thanks for sharing a bit of your day with me :)
What's In It?
Stamps:
Surely Goodness (Verve), Fren

c

h Script (Stampin' Up)
Paper: Garden Floral (Recollections - Michael's), Kraft, Cameo Coral, Early Espresso (Stampin' Up)
Ink: Black, Sahara Sand
Accessories: Scalloped Nesties, Scalloped Trim Trio and Flutterby (A Cut Above by Verve), 5/8" Brown Satin Ribbon, Crimper (Fiskars), Button, Bling, Twine, Dimensioanls