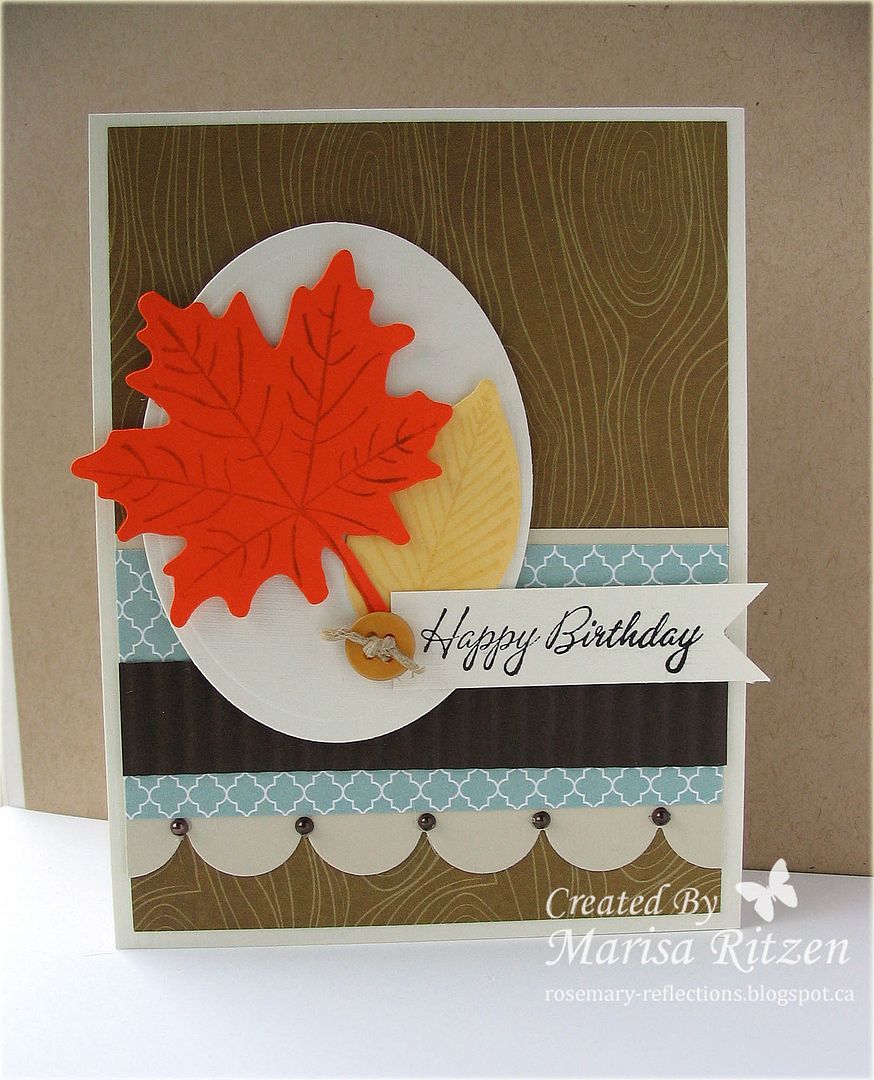 This week's challenge is brought to us by Vicki and she has provided this sketch for us to work with.
I played along with the
Fab Friday
colour pallet as I was getting giddy about the thought of using my maple leaf die for the first time this year! Beware, a small foreshadowing of things to come wink, wink!
I used a combination of Teresa Collins and MME papers and added my beloved maple leaf - happy sigh....
The rest of the JUGS

team has some wonderful samples to get your inspiration going, so head on over to the

Just Us Girls

blog, and check out what the Design Team has created. Then put your creative genes to work and add your card/project to the challenge post on the JUGS

blog for the chance to be chosen as the Chic of the Week.
The first week of school is now done and I have one very happy, bouncy boy who is thrilled to be in high school, and one very stressed out and emotional girl who hates going to high school. Nothing like dealing in extremes. Praying hard my daughter finds a good friend this year as that is the crux of her issue. Until then, I'm thankful for texting so I can be there for her. Think we all need a bit of down time this weekend :)
Gotta run, off to my son's first soccer game of the season and on to day five of my 21 day
Go Fit Gals
workout/meal plan. They have some amazing recipes which I will definitely be introducing into our regular meals! I'm also pretty sure I have shed at least five pounds of sweat - the workouts are amazing! I would definitely recommend this program!
Have a great weekend everyone!
What's In It?
Stamps: Leaf Prints (PTI), Stampin' Up
Paper: Memorabilia (Teresa Collins), Sic by Six (My Mind's Eye) So Saffron, Only Orange, Early Espresso, Shara Sand (Stampin' Up)
Ink: Black, Creamy Caramel (Stampin' Up)
Accessories: Medium Scallop and Leaf Dies (PTI), Oval Nestability (Spellbinders), Crimper, Brown Half Pearls, Button, Twine, Glue Dot, Dimensionals