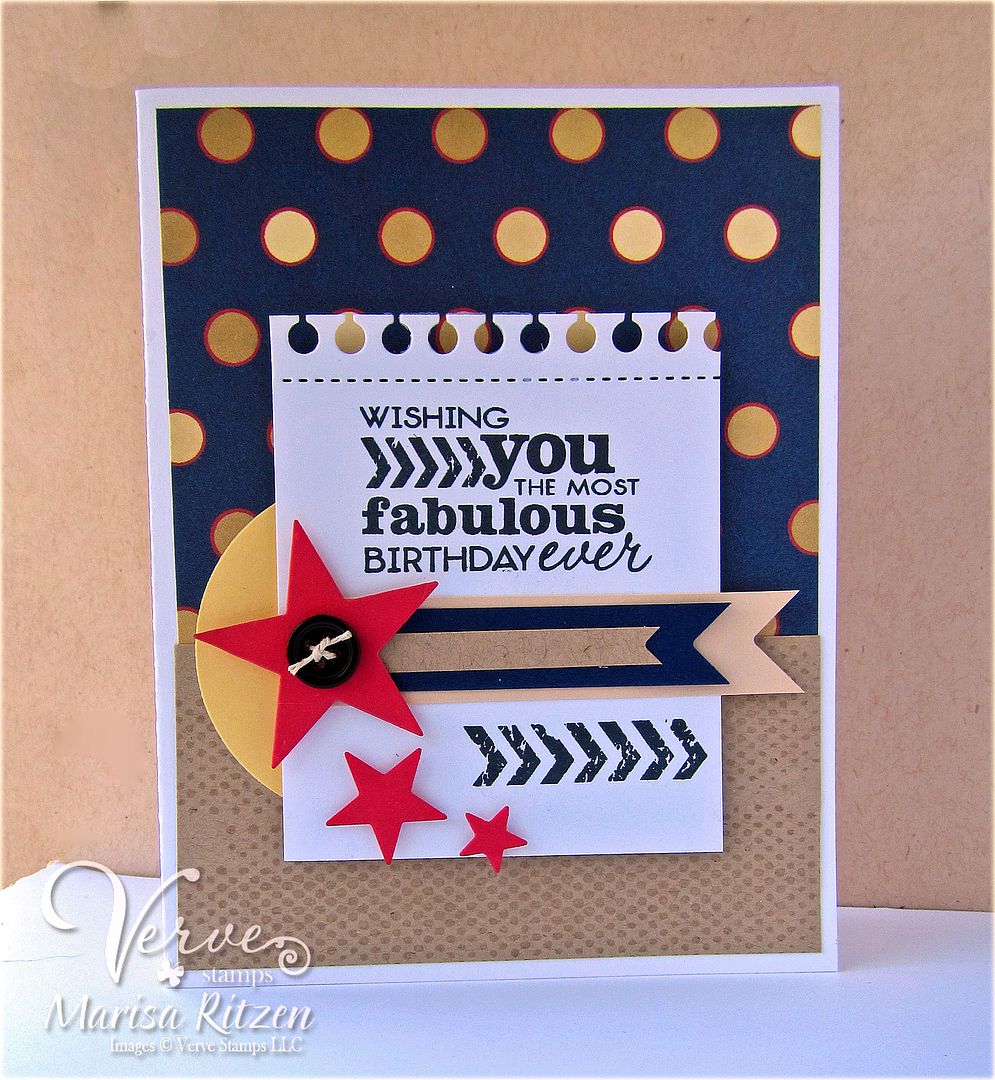 It's the first Monday of the month and that means contest time over on the Mojo Monday blog! The more entries we get, the greater your chances of winning so come play long for your change to win some Verve!
I needed a birthday card for my son as he turned 15 this weekend. I still can't believe my 6'1" "baby" is fifteen - where did the years go!! He is a fabulous boy with a huge heart, charismatic personality and holds a very special place in my heart. I am truly blessed and thankful to have him for a son.
I pulled out
Better Together
as I love the masculine bent to this set. Used the tread mark stamp on my kraft panel and stamped this fabulous sentiment on some notebook paper. Added a few stars using the
Starry
die set and a triple banner to tie all the colours together.
All the challenge details are over on the
Mojo Monday
blog and you can also view all the wonderful Mojo Makers samples. Should you wish more

details on the Mojo Maker's cards, you can also visit their individual blogs noted below.
We plowed our way through another extremely hot week here with it hitting the 30's again (90+F). This is a summer like no other! Beginning to wonder if I live in BC or not LOL! Thankfully a week Sunday we had a substantial rainfall. It hasn't put much of a dint into the water reservoirs but at least the trees, plants and grass finally got some rain.
Though I was happy for the rain, it brought on a very busy Sunday! Got a call from my boss saying we had a flood in the clinic so I went over to help out. Thankfully he was in there Sunday morning getting all we needed for our screening at the Farmer's market otherwise, things would have turned out very differently! My family and I basically ran a water brigade for over four hours as each heavy rain shower brought on a stronger deluge of water than the previous one. Scary part is it was coming through the AC unit in the x-ray room.
Thankfully I didn't clean out my towel closet two weeks ago when I was thinking about it because we used every towel we own to try to keep the water in check. We managed to keep the water level at under an inch of water on the floor so the drainage into the sub floor was minimal and since we covered the x-ray machine with some towels and a big garbage bag, it came out unscathed. Needless to say, it could have been a LOT worse if my boss hadn't gone in on Sunday morning. A total blessing as he usually collects everything Saturday night not Sunday morning. Otherwise, come Monday, I know we would have had several inches of water everywhere, which would mean a new x-ray machine, new floor having to be put in, walls etc., a major disruption to business. We were running pretty well on pace last week, albeit
roasting
to death in the clinic as the AC unit needed to be cleared before we could turn it on. So....we got to work in 30+C all week (90F - 100F) with drying fans in the walls and sub floor to get the moisture out (more heat) making it cooler outside than it was in our clinic - which is something because it was quite hot outside!! Cause of the issue: a cracked, outdoor, drainage pipe that overflowed and backed up into our AC's drainage pipe because the contractor didn't put in a one way safety valve in! Yah....
Sorry for the long post - just have to document this adventure somewhere LOL!
Have a fabulous day, and hope you can play along!
Challenge: Simon Says
What's In It?
Stamps: Better Together (Verve Stamps)
Paper:
Miscellaneous DP, Kraft, So Saffron, Real Red, Night of Navy (Stampin' Up), Tan
Ink:
Black, VersaMark
Accessories:
Starry Die Set (A Cut Above by Verve), Notebook Die (My Favorite Things), Circle Nestabilities (Spellbinders), Button, Twine, Glue Dot, Dimensionals