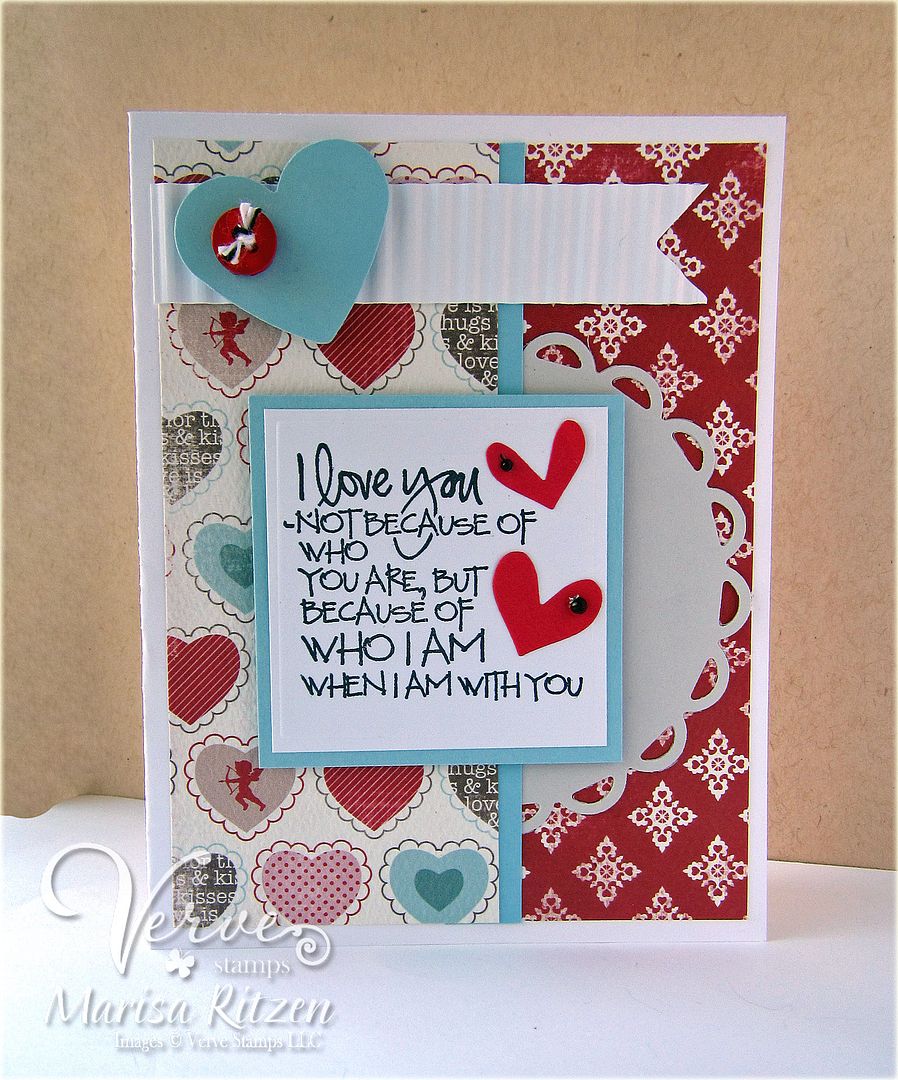 It is Mojo Monday time today, and Julee has provided this great sketch for us to work with this week.
I wanted to created a Valentine's Day card for my stash -- or more truthfully, just wanted to play with hearts as I just love them! Pulled out some Devoted Carta Bella papers and accented them with blue and a few pops of red.
Love this sentiment from Stronger Love! It is so, so true! Certain people can bring out the best in us and sometimes show us a side of ourselves we never knew we had. Added a few hearts from Heart Quartet and couldn't resist leaving me crimper out of the mix.
All the challenge details are over on the
Mojo Monday
blog and you can also view all the wonderful Mojo Makers samples. Should you wish more

details on the Mojo Maker's cards, you can also visit their individual blogs noted below.
I finally got some
much
needed down time this weekend and boy did it feel good!! December was abnormally busy for us due to some unforeseen circumstances popping up, and a month of way too much socializing and activity, paired with a busy time at work, just about sent this introvert off the deep end. Thankfully, I was able to recharge this weekend. I stayed home, had a jammie day, spent time in my craft room, read, and didn't interact with anyone other than family - and then only when it was necessary LOL!! Just what I needed as I am feeling much more like myself. The joys of being an introvert and needing down time to stay sane.
Enjoy the sketch and have a fabulous day!
What Is In It?
Stamps: Stronger Love (Verve Stamps)
Paper: Devoted (Carta Bella), Cool Caribbean, Going Grey (Stampin' Up)
Ink: Black
Accessories:
Heart Quartet (A Cut Above by Verve), Lacy Circle and Square Nestabilities (Spellbinders), Heart Punch (Marvy), Crimper (Fiskars), Button, Twine, Black Half Pearls, Glue Dot, Dimensinoals