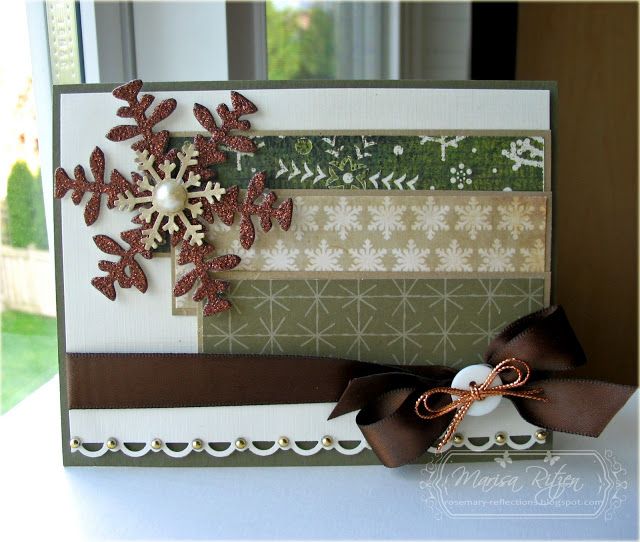 The first thing that came to mind when I saw the flowers on this week's
Mojo Monday
sketch was to use a big, sparkly, snowflake, so I dug into my Christmas DPs to see what would tickle my fancy. I pulled some yummy Basic Grey, Echo Park and what I think is some old Stampin' Up designer series paper that worked well together.
My initial thought was to go with a sparkly, red snowflake, but alas, my supply of such paper seems to have run out so I opted to go with a bronze one instead. My attempt at keeping red in the mix failed as using a red ribbon overpowered the card and totally wiped out my snowflake! Thus the monochromatic card. Thankfully I had some bronze twine to help tie things together (no pun intended LOL).
Hubby has a ton of work for me to do starting the end of this week and carrying on into the New Year, so unfortunately my creative time will have to suffer...sniff, sniff.... Since I refuse to give up my self imposed "Fit and Firm at Fifty" kick until that blessed day in January, as well as having to schedule in all the kids' Christmas activities and getting my own house in order for Christmas, I am hoping to be able to manage three posts a week. Could be a challenge, but hey, this girl loves a challenge, and after all, tis is the season to believe in miracles, right?! Will do my best, promise :)
Challenges: Divas By Design - Monochromatic
What's In It?
Paper: Vintage Santa (Echo Park), Jovial (Basic Grey), SU DSP, Sparkly Bronze chipboard, Gold, Always Artichoke, Linen Vanilla
Accessories: SU Scalloped Border Punch, Cuttlebug Snowflake Die, Martha Stewart Snowflake Die, Half Pearls, 5/8" Brown Satin Ribbon, Button, Bronze Twine, Glue Dots, Dimensionals