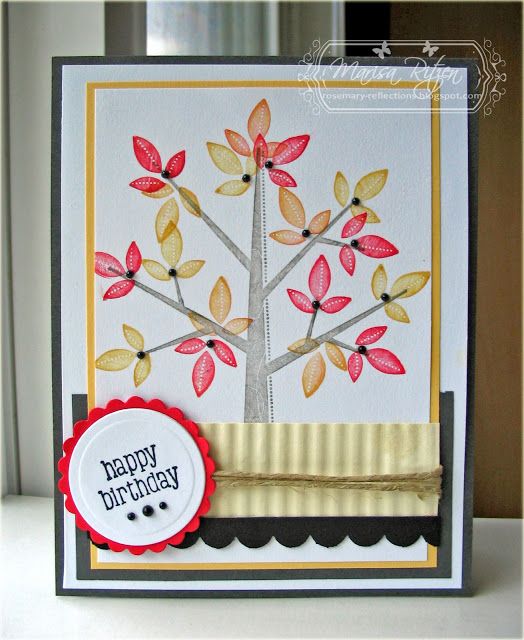 This week's Techno Stamper
Monday Lunchtime
sketch was one I wanted to use as I had a hankering to use Stampin' Up's Season of Friendship tree and the large panel fit the bill. I paired it with the wonderful combination for this week's
Colour Throwdown
. However, that was when things came to a grinding halt!
Ever had one of those cards that just works you over?! Since I didn't want to be outdone by some paper and ink (I know, sad statement LOL) and I was too stubborn to toss it out and start again, I pressed on....mercilessly letting the illusion of getting the card to work out torture, taunt and challenge me to get it right. I almost didn't post it, but decided I should just as a reminder of how some times things fall together and other times your creative gears get ground but good.
I think my troubles began when I used white instead of vanilla and then realized my error and had to work it in - first ugh! Things continued to be issues from there.....I didn't have Basic Grey or Red Riding Hood Ink so had to sub in colours; my tree image was bigger than I remembered but I was determined to use the image so the sketch got pushed to the limits; the teeny, tiny red sentiment panel overpowered the tree so I played around with different cording, ribbon etc. across the vanilla panel and settled on the twine; the tree was still getting overpowered so I added black half pearls to the base of each leaf to bring it out a bit more; tree didn't feel "grounded" so I added the little strip of black scallops at the bottom to ground it and get my "rule of three" going. After trudging through the above issues, I think I appeased the competitive gene in me enough to call it a card. Not one that will win first prize, but at least I got a participation ribbon LOL!
Thanks for listening to my woes :) Hopefully it encouraged you in some small way and provided you with a laugh as you pictured an obsessed, crazy woman (waving madly at you) competing against an inanimate object called paper! Trusting my next card will be a much more enjoyable experience - so there, paper LOL!
What's In It?
Stamps: Season of Friendship (SU), Hero Arts
Paper: Real Red, So Saffron, Basic Grey, Vanilla, Black
Ink: Going Grey, So Saffron, Real Red, Black
Accessories: SU Border Punch, Scalloped Circle and Circle Nesties, Crimper, Black Half Pearls, Twine, Dimensionals