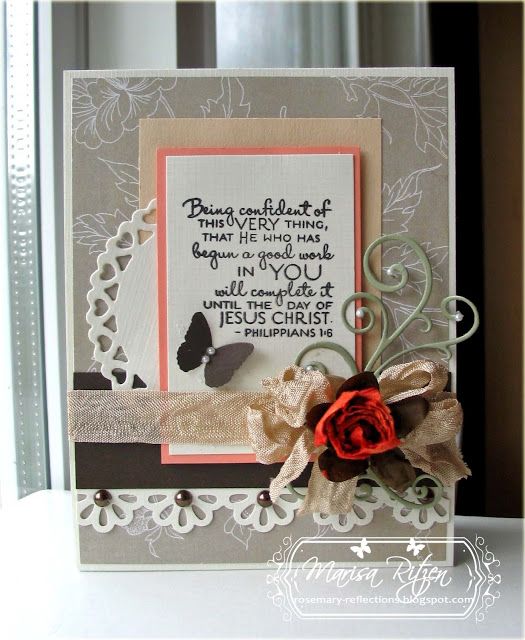 This sketch had me swallowing hard when I first saw it due to all the panels on it. I lean more toward the CAS side of things so this one was a stretch, but good for exercising the old creative genes :)
I decided to go a-la Tosh (a far cry from her work, but she was my inspiration) and dress this puppy up. The starting point was my life verse of Phil 1:6 which Julee so blessed me with by putting it into stamp form.
Three quarters of the card came together quite quickly, but the flower cluster area and what to put on the left hand corner of the sentiment panel brought production speed to a near stop - ugh! I tried a what seemed like a bazillion things, from colours, to ribbon, to lace and thankfully, I tripped across this perfectly coloured seam binding or I think I would have gone insane LOL! Did some major surgery on the flower (cut it down and opened it up quite a bit) and thankfully it still held together - phew.
That's it for today. Enjoy your day and thanks for sharing a bit of yours with me :)
What's In It?
Stamps: Phil 1:6 Plain Jane (Verve)
Paper: Early Espresso, Cameo Coral, Tan, Cream Linen, Recollections DP (Michael's)
Ink: Black
Accessories: Heart Circle Nesties, Martha Stewart Border and Butterfly Punches, Flourish Die (My Favorite Things), Seam Binding, Flower, Half Pearls, Glue Dots, Dimensionals