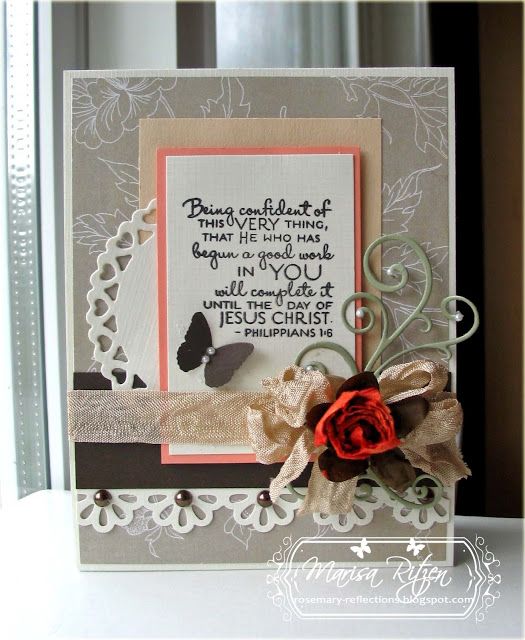 Can I have some mommy gush time for just a bit....thanks ;) SO proud of my daughter who won the junior poetry writing contest at her school this past week! She got $75 and a bound book with all the winner's submissions for all three categories (poetry, fiction, and non-fiction). Funny thing is she didn't even hear the announcement as she was in the gym change rooms where they are hard to hear so when she went to the cafeteria for lunch she got mauled by people giving her hugs and congratulating her and she didn't know why LOL! She has an amazing ability to write poetry and though she doesn't think hers is anything special, I think this has told her otherwise and will encourage her to keep writing.
Okay, mommy gush is now over....on to the card :) This week's
Mojo
sketch was a great one and since I have been in a rather large flower rut lately...okay....again...lol, I figured I would go to the cutesy side as I don't do that very often.
Haven't used my Stampin' Up owl punch for some time so pulled it out and enjoyed creating a cute girl owl and card in one of my favorite colour combos - pink and brown. I always second guess myself with the pupil placement of the eyes when I use this punch as I'm never quite sure if I get the location right. Just don't want them to look cross eyed!
Back to my craft area I go in order to cram in as much time as possible before school is out and the kids are home 24/7. I giggle as all my teacher stamping friends have the opposite reaction to the countdown - they can't wait for school to be done so they have more time to stamp. Gotta love life :)
What's In It?
Paper: Early Espresso, Kraft, Pretty in Pink, Costco DP, Making Memories DP
Accessories: Scalloped Circle and Circle Nesties, Owl, Bird and Scalloped Border Punch (Stampin' Up!), Distressed Stripes Embossing Folder, 5/8" Pink Satin Ribbon, Button, Twine, Glue Dots, Dimensionals