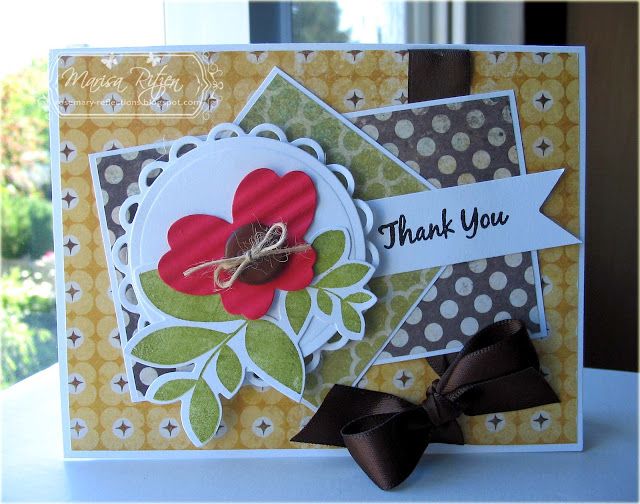 So glad I can finally spill the beans as I have been vibrating with joy and excitement since I got an e-mail from
Julee
asking yours truly if I would like to become a member of the Mojo Makers team over on the
Mojo Monday Blog
!!! Eeeek!!! I squealed with excitement, so loudly in fact, that my family came upstairs to see what all the commotion was about LOL!
I have always loved Julee's sketches and have played along with Mojo Monday for years. In fact, one of my secret bucket list items was to one day be part of the Mojo Makers and today, that wish has become a reality. In addition, my deep love for all things
Verve
makes this a match made in heaven :) Thank you again, Julee!!!!
Adding to the excitement, is the fact my blogging friend
Wanda Cullen
has also been asked to become a member of the team :) I am truly blessed to be in the company of such amazingly talented ladies, many of whose blogs I have followed for years. My cup runneth over :)
Okay...enough babbling and on to the card :) I literally laughed out loud when I got this week's sketch as it had my arch nemesis "the skewed panel" on it!! Those of you who have been around my blog for any length of time know about my "issue" with skewed panels. I think it was my "hazing" LOL!
So....with a high level of determination to make my very first Mojo Makers card one that "embraced the skewed panel and made it my friend", I used two of my favorite Verve dies,
Elegant Leaves
and
Flutterby,
to ease me into the sketch. Some great papers helped things flow from there and my mission was accomplished - phew!
I hope you can squeeze a little time in to play along with us this week! Simply visit the
Mojo Monday blog
for all the details and a chance to view all the wonderful Mojo Makers samples! Should you wish more details on their cards, you can also visit their individual blogs noted below.
Thanks for for popping by today and sharing in my excitement!
What's In It?
Stamps: Bloom and Grow, Celebration of Thanks (Verve)
Paper: Mosaic Memories (Recollections Paper from Michael's), Real Red
Ink: Old Olive
Accessories: Scalloped Circle and Circle Nesties, Elegant Leaves and Flutteby Dies (A Cut Above Dies by Verve), 5/8" Brown Satin Ribbon, Button, Twine, Glue Dot, Dimensional