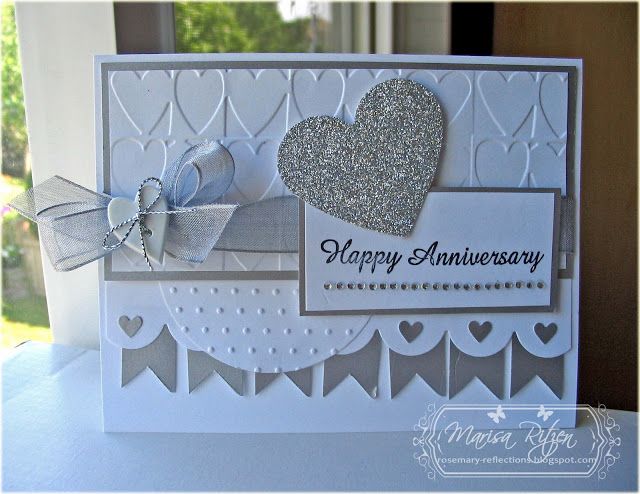 I'm continuing on in my challenge combinations so I can kill two birds with one stone. This time I'm using Verve's week two sketch with the second Verve Release Challenge which is to make an anniversary card with wood or silver on it. I opted for the silver as I love white and sliver cards. I apologize for the picture quality...finished up the card too late for good sunlight.
The sketch was a lot to take in when I first saw it so I had to break it down section by section. Some embossing folders helped me out with a bit of texture and contrast with silver and bling balancing things off. The sparkly heart is made of some paper I found at one of our local dollar stores. I wish you could see it in real life as it is gorgeous! The picture makes it look like hammered metal so you're going to have to take my word for it!
Two challenges down and three to go! Cant' wait to see what the Divas come up with for the next one - maybe it will be a skewed panel sketch just for me LOL!
Our weather continues to be simply amazing here on the West Coast! After nine months of rain, our summer has come through big time! Off to enjoy some of it with the kids before the next heat wave comes along later this week.
Have a great day and thanks so much for sharing a bit of your day with me :)
What's In It?
S
tamps: Amuse
Paper: White, Silver, Sparkly Silver
Ink: Black
Accessories: Heart Blocks and Swiss Dots Embossing Folders, Circle Nesties, Medium Scalloped Border Die (PTI), Heart Punch (Marvy), 5/8" Sheer Silver Ribbon, Heart Button, Silver Twine, Bling, Glue Dot, Dimensionals