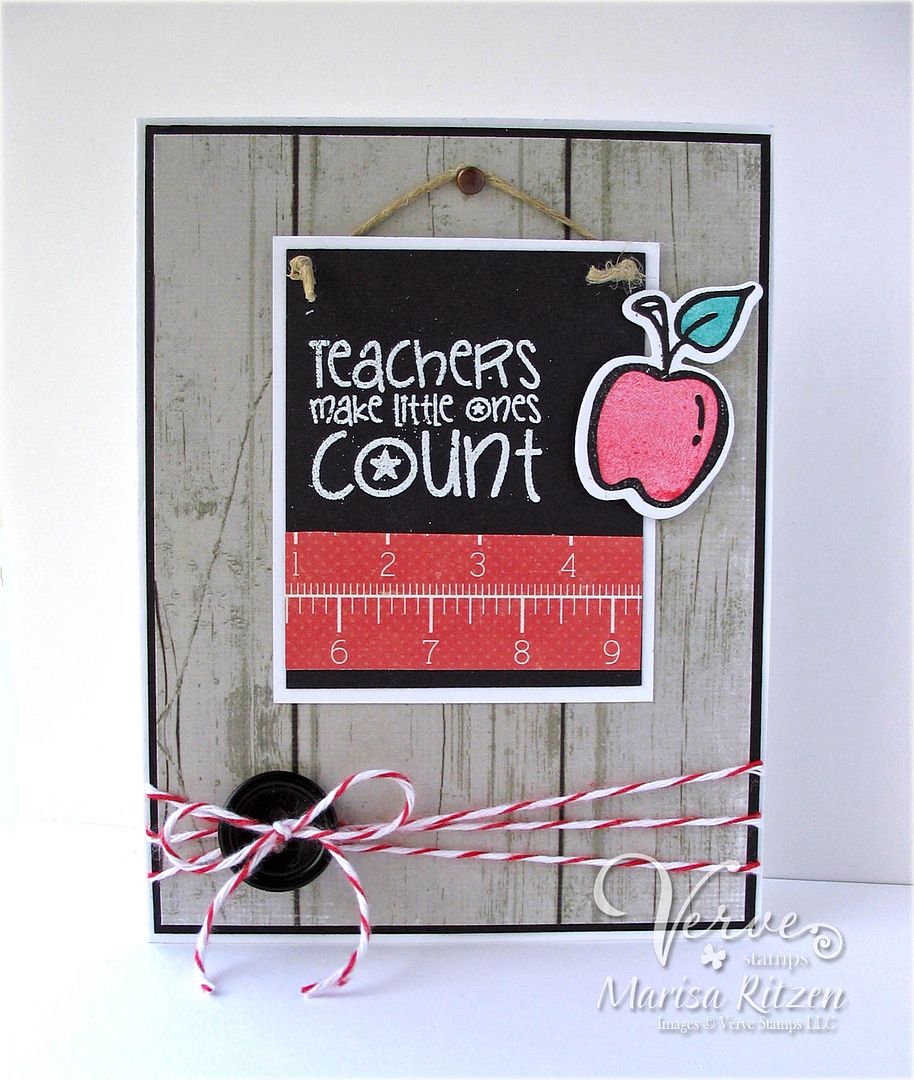 This week's Just Us Girls Inspiration Challenge is brought to us by Tangii and she has found this delightful school supply cake for us to work from (you can click on the image to enlarge it if you like).
Of course I immediately thought of Verve's
Teacher's Count
set! So
many wonderful sentiments and perfect for this challenge. I went with the wood paneled background and the black was screaming blackboard so that is the route I went, turning the blackboard into a hanging sign on a wood wall. I added a ruler by cutting some paper from Echo Park's Paper and Glue pad and an apple in the corner for good measure.
The rest of the JUGS

team has some wonderful samples to get your inspiration going, so head on over to the

Just Us Girls

blog, and check out what the Design Team has created. Then put your creative genes to work and add your card/project to the challenge post on the JUGS

blog for the chance to be chosen as the Chic of the Week.
Good to be back creating again, though my two weeks off has definitely slowed the creative genes down a bit. No time to fully enjoy creating for a bit yet as it is a busy time of year preparing for school and squeezing out the most we can from the simply amazing summer weather we have enjoyed for the past two months. Come September things should settle down to a more regular posting schedule. Until then, thanks for your patience!
Have a great weekend and I'll be back on Monday with my Mojo Monday card.
Challenges: Simon Says
What's In It?
Stamps: Teachers Count (Verve Stamps)
Paper: On The Bright Side (My Minds Eye), Paper and Glue (Echo Park), Black,
Ink: Black, Real Red, Garden Green, White Craft Ink (Stampin' Up), VersaMark
Accessories: Apple Die Set ( A Cut Above by Verve), White Embossing Powder, 5/8" Red Satin Ribbon, Twine, Dimensionals