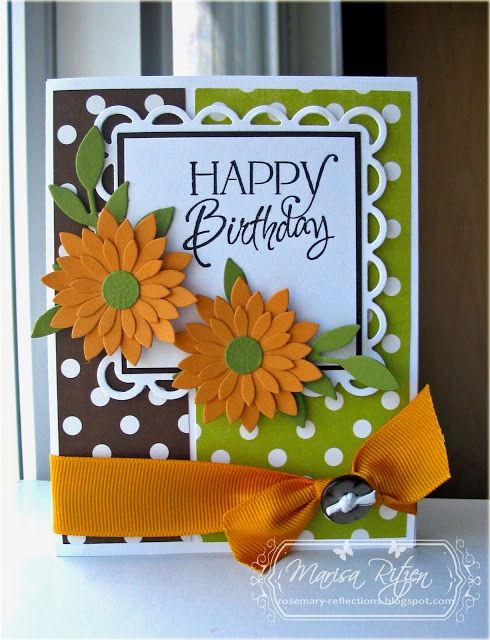 Another wonderful Verve sketch by Diva Amber. I cheated a bit in that I left off a layer, but love this sketch so much I'm going to make a second one using the extra layer so all is good in the end LOL!
Wanted to combine the sketch with this week's
Annabelle Stamps
colour challenge as it involves some fabulous fall colours. Was a bit hard getting into a "fall" mood while desperately craving spring, but just love the colours so it didn't take much to twist my rubber arm :)
Polka dots still abound and I am just loving this MFT flower die! Went with some "green eyed" Susans versus the brown eyed ones as it was too much brown. A very well used Happy Birthday Verve Plain Jane and I have a card made will in advance for a very good college friend of mine who also loves these colours.
We are in day two of a three day teacher "protest" so there is no school. Needless to say, the kids are thrilled with the extra days off. Next week is the beginning of their two week Spring Break so they are basically getting a three week spring break with just two days of school this Thursday and Friday. We are taking advantage of the impromptu time off by connecting with friends we don't get to see that often. Truly hope this whole issue gets settled quickly. Education system needs an overhaul....for everyone's sake....
What's In It?
Stamps: Happy Birthday Plain Jane (Verve)
Paper: Dots and Stripes (Echo Park), Early Espresso, More Mustard, Old Olive
Ink: Black
Accessories: Lacy Square Nesties, MFT FLower Die, Sizzex Leaf Die, 1" Mustard Grosgrain Ribbon, Button, Twine, Glue Dots, Dimensionals