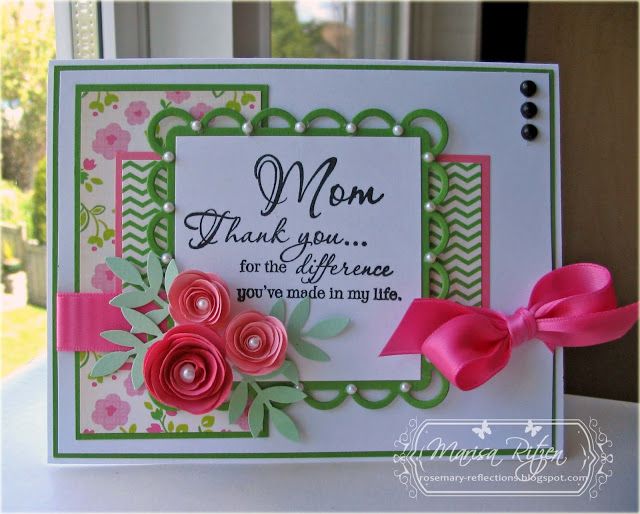 After promising no more Mother's Day cards, I am sneaking one more in using the first Verve sketch for May. This fun Echo Park Country Drive paper was my starting point and I pulled all the colours from it.
I haven't used my MFT rolled rose die for some time so out they came. I'm out of practice, but thankfully they are forgiving and look better in the picture than they do in person. Guess you could call them wild roses :) Sorry about the dark picture. With the sun up higher now I need to remember to alter the time I take my pictures.
My busy weekend is about to begin so no stamping for me this weekend as our guest room (aka my craft area) will be off limits :( Guess my Kindle Fire will have to keep me company instead of my stamps. Back as soon as I can make a card. Have a fabulous weekend!
What's In It?
Stamps: Because of You Verve)
Paper: Country Lane DP (Echo Park), Wild Wasabi, Rose Romance, Pretty in Pink, Mint Medley
Ink: Black
Accessories: Lacy Square Nesties, Rolled Rose Dies (My Favorite Things), Leaf Punch (Martha Stewart), 5/8" Fuchsia Satin Ribbon, Half Pearls, Glue Dots, Dimensionals