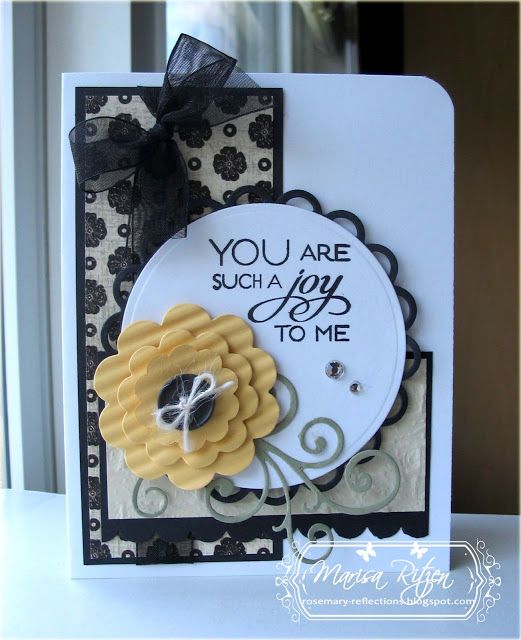 Good to be back!! I missed you :) Last week was a very, very, busy week for me so my down time became finishing the Hunger Games trilogy instead of stamping as I just didn't have the energy to do much else. To top things off, this past weekend we did our annual cooking for the youth retreat at the church and that is always exhausting, albeit rewarding :)
Snuck in a bit of "me" time yesterday afternoon and this
Freshly Made
sketch with the big circle was calling my name. Sorry about the dark, picture, it was late afternoon when it was taken.
I'm finding the MFT flourish die is a pain in the butt! It's very hard to get a clean cut all the way through the paper even after running it through my Cuttlebug three times. Think I may need to add an extra shim to the sandwich for a bit more pressure as my machine is about six years old and is well used so it isn't as "tight" as it once was (hmmmm....it sounds like my body LOL!).
The next two weeks are pretty busy so hoping to be able to get inky despite it all. Back as soon as I can. Thanks for popping by today :)
What's In It?
Stamps: Kind Words (Verve)
Paper: Costco DP, Sahara Sand, So Saffron, Mellow Moss
Ink: Black
Accessories: Lacy Circle and Circle Nesties, SU Scalloped Border Punch, Tim Holtz Brick Embossing Folder, MFT Flourish Die, PTI Flower Die, Crimper, Button, Twine, 5/8" Sheer Black Ribbon, Glue Dots, Bling, Dimensionals