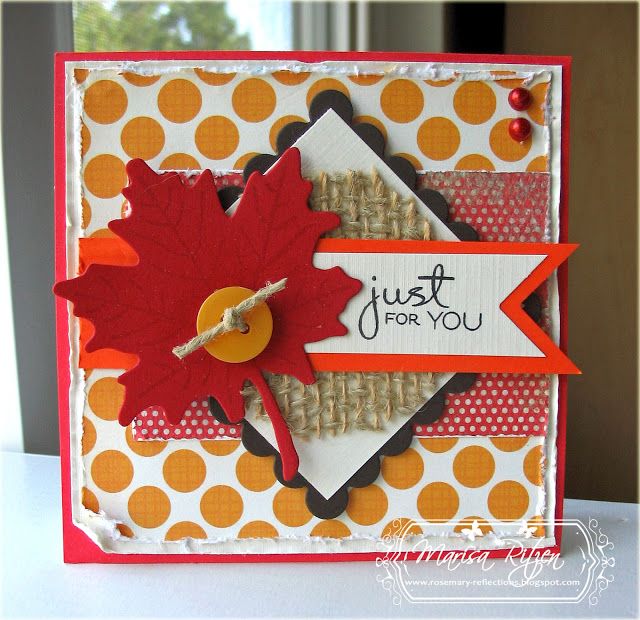 Had so much fun making the round version of this week's
Mojo Monday
sketch, I thought I would make the square version as well. As fate would have it, a few challenges provided a excellent excuse for the use of my beloved maple leaf...happy sigh... :)
I'm combining the sketch with a few challenges out there this week:
4 Crafty Chicks
- use leaves on your card. Hello!! Great excuse to bring out my maple leaf again.
Delightful Challenges
- use distressing on your card. Roughed up the edges with my distressing tool. Finally,
Friday Mash Up
- use Indian Summer as your inspiration.
In addition, I actually jumped on the "trendy" band wagon and used some burlap on my card. As fate would have it, I tripped across some wired, burlap "ribbon" at one of the local scrap booking stores I frequent, so I bought some in cream and kraft. Just love the texture it adds to a card and it is a perfect companion for leaves! Needless to say, there may be a bit more showing up on a card or two shortly wink, wink.
My daughter and I were having a debate about which picture was better. She likes the one below, I like the one above. The top one is crisper and has darker colours, but the main point of contention is a close up versus a more distant shot. Which do you prefer? Please be honest as it is a debate I have had in my own mind for some time. Thanks!
Wishing you a delightful day!
What's In It?
Stamps: Purely Sentimental (Verve), Leaf Prints (PTI)
Paper: Country Lane (Echo Park), Stella and Rose (My Mind's Eye), Real Red, Only Orange, Early Espresso, Cream Linen
Ink: Black
Accessories: Scalloped Square and Square Nesties, Maple Leaf Die (PTI), Crimper, Distressing Tool, Burlap, Button, Twine, Red Half Pearls, Dimensinoals