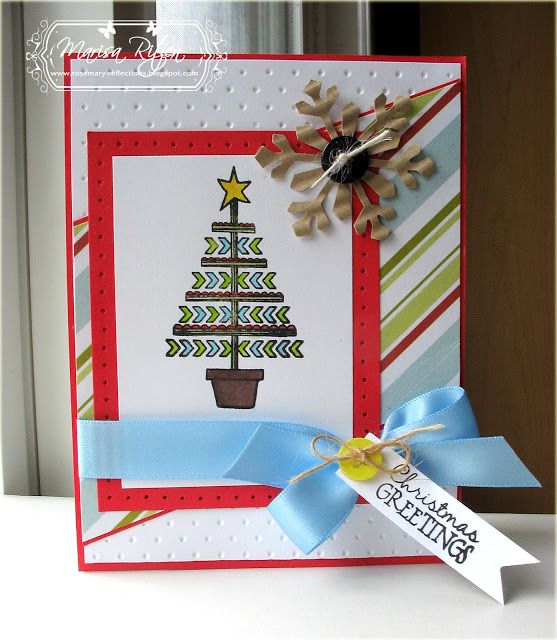 This week's Verve sketch was an interesting layout and one I had to work with a bit before being able to get it to work. Not totally happy with the result, but didn't want to start all over again so I'm showing you the card anyway.
I pulled out this fun SEI striped paper and went to work - though it took some thinking before I was able to make the proper diagonal cut on a diagonal pattern LOL!
Since my newly won Verve Christmas release goodies are now in my possession, I didn't think twice about using them. This cute little tree from Holiday Greetings caught my eye and I coloured it with Twinkling H2Os to match the paper. Some red trim, a blue bow and a kraft snowflake completed the card. I initially wanted to use my Martha Stewart jumbo snowflake punch on a Starbuck's sleeve for the snowflake element, but the sleeve proved to be too thick to punch through :( Darn it all anyway, as I liked the darker shade of kraft from the Starbuck's sleeve better.
It's a short week so it will no doubt fly by as you have to cram five days into four. Messes with my knowing which day of the week it is every time too. Almost missed my son's soccer practice yesterday as I thought it was Sunday! Please tell me some of you have the same issue :)
What's In It?
Stamps: Holiday
Greetings (Verve)
Paper:
(SEI), Real Red,
Ink:
Black
Accessories:
Twinkling H2O's, 5/8" Blue

Satin Ribbon, Jumbo Snowflake Punch (Martha Stewart), Button, Twine, Glue Dots