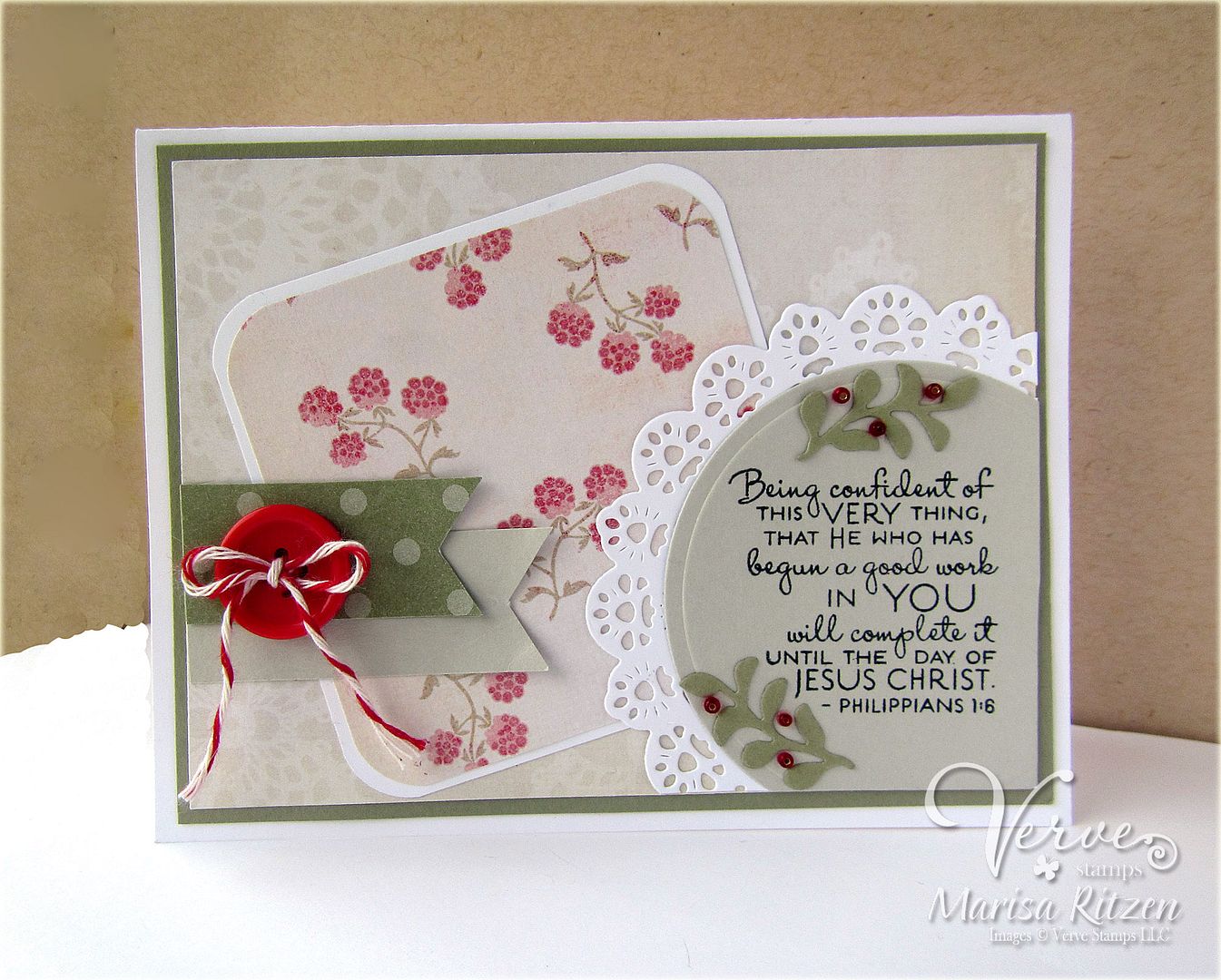 Happy Thanksgiving to all my Canadian followers!!
This is one of my favorite weekends of the year -- a time to give thanks in abundance :) Thankfulness is something I do on a daily basis all year round, for things great and small that occur, but it always brings me great joy to be able to share with and listen to what each family member is thankful for over the past year.
Ann Voskamp's book
A Thousand Gifts
is a fabulous read and a great way to keep a journal of what you are thankful for on a daily basis. Nothing better than reviewing your written thanks at the end of the year as it is a powerful reminder of how much one truly has to be thankful for, especially when the world we live in very much wants you to focuses on what you don't have instead of what you do.
For my card today, I used my life verse of Philippians 1:6 found in
Scripture Medley 3.
I framed it with a doily and added a few leaves from the
Sprightly Sprigs
die set. I needed a punch of colour so I added a red button and some "berries" to my leaf sprigs.
All the challenge details are over on the
Mojo Monday
blog and you can also view all the wonderful Mojo Makers samples. Should you wish more

details on the Mojo Maker's cards, you can also visit their individual blogs noted below.
Have a great day, enjoy the sketch, and take a few moments to reflect on all you have to be thankful for - it's good for the soul :)
What's In It?
Stamps: Scripture Medley 3 (Verve Stamps)
Paper:
Sweetest Thing (My Mind's Eye), Going Grey, Mellow Moss (Stampin' Up)
Ink:
Black
Accessories:
Sprightly Sprigs Die Set (A Cut Above by Verve), Doily Die (Top Dog Dies), Corner Rounder (Marvy), Glass Beads (Dollar Store), Button, Twine, Glue Dots