Welcome to Day 3 of
our Anni-VERVE-sary Spotlight Hops!
Are you drooling over the sets as much as I was when I first saw them?!!!
Today's set,
Words of Wisdom
, brings lots of wonderful sentiments and Julee has provided a co-ordinating
Notebook Paper
and
Graph Paper
Plain Jane along with a matching die! This woman is beyond brilliant :)
I
love
the sentiment Carpe Diem (aka: seize the day) and squealled with delight when I saw it in this set. I strive to live my life by this sentiment as you can never take back time and each day has so much to offer. I'm not always successful in my quest, but it is a wonderful reminder to press into life daily, and by doing so grow as a person through facing the challenges, opportunities and even the quiet times that come your way. Carpe Diem!!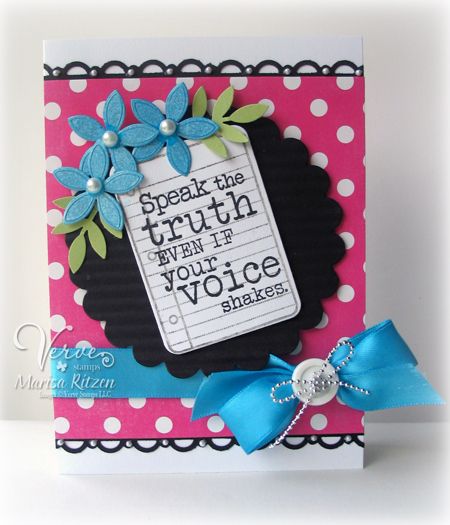 This card's sentiment is even more special to me than the previous one. I almost cried when I read it because it is the very core of who I am. I am a truth speaker. I am not a status quo girl. That means I'm not at the top of the popularity charts, and can sometimes be the lone voice speaking out in the crowd, but I have come to cherish how speaking the truth gives one strength of character. In addition, speaking the truth gives me freedom. Freedom from self denial, freedom to face issues in my own life so I can grow as a person, freedom to stand for what I believe in, and freedom to just be me :)
Sure that was a bit more than you bargained for on a Spotlight Hop, so my apologies!! Time to move on in the Hop. Noted below is the list of amazingly talented Divas who have some great cards to show you featuring today's sets.
Don't forget,
one lucky commenter from each day's hop will win the sets and dies featured that day, so be sure and leave a little love in the Divasphere!
Check out the
Verve Blog
today for all the prize details and deadlines
Back tomorrow with Day 4 Sneak Peeks!
Carpe Diem
Stamps: Words of Wisdom and Graph Paper Plain Jane (Verve)
Paper: Flutter By (Kaiser Kraft), Real Red, Early Espresso, Vanilla, Rose Romance (Stampin' Up!)
Ink:Going Grey and Black (Stampin' Up!)
Accessories: Rounded Rectanagle and I Heart U Dies (A Cut Above by VERVE), Seeing Spots Embossing Folder (Provo Craft), Threading Water Punch (Fiskars), Notebook Punch (EK Success), Crimper (Fiskars), Half Pearls (Michael's), Hemp Twine, Dimensinoals
Speak Truth
Stamps: Words of Wisdom and Notebook Paper Plain Jane (Verve)
Paper: Dots and Stripes (Echo Park), Black (Stampin' Up!)
Ink: Black and Going Grey (Stampin' Up!)
Accessories: Rounded Rectangle Die (A Cut Above by VERVE), Scalloped Circle Nestabilities (Spellbinders), Crimper (Fiskars), Scalloped Tim Border Punch (Stampin' Up!), Half Pearls (Michael's), 5/8" Turquoise Satin Ribbon (Michael's), Button, Silver Beaded Twine (Michael's), Glue Dots, Dimensionals