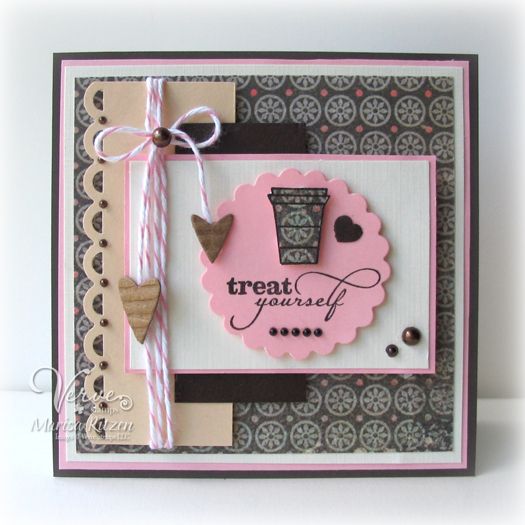 Welcome to
Day 4 of the Anni-VERVE-sary Spotlight Hops
. We are half way through and working our way towards Friday's Release Party, and what a party it is going to be!! Hope you can join us :)
Today's sets are all about coffee and tea with many wonderful coordinating sentiments.
My first card is from the
Sip and Savor
set and I used the From the Heart Die Set for the two hanging hearts and in keeping with the theme, punched them out of a Starbucks coffee sleeve as they are perfect for corrugated images and much less expensive that the ones you have to buy! Bet then never though of this market LOL! Best part is there are four sizes of hearts so you can use the one that fits your card best :)
In addition, the From the Heart Die Set is the Anni-VERVE-sary special. It will be available
exclusively
as a free gift with orders $35 and over through August 31, while supplies last. From the Heart will be available for purchase in September.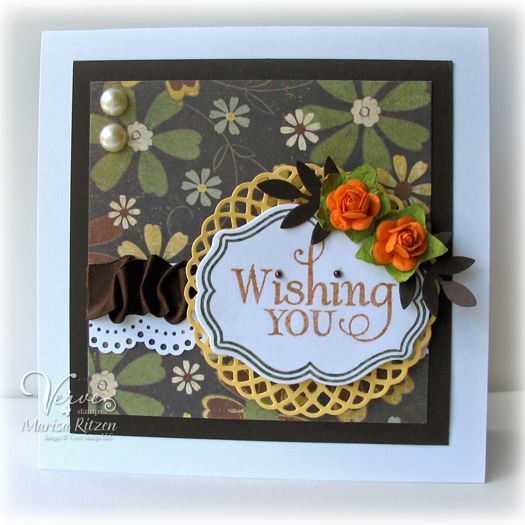 This second card also uses a Starbucks sleeve - right there as the sleeve on my vente, decaf, non-fat latte card ;) I used some Stella Rose DP that is very bold and out of my normal range, but I am loving the outcome. I actually embossed the BG DP in my Swirls EF and skuffed it up a bit with my sanding block (idea I got from Queen Diva Julee herself when she posted a card using this technique about a month ago) but it doesn't really show up that well in the picture - should have sanded it a bit more. I added three heart brads because I just looooove my lattes :)
Time to enjoy the rest of the hop and then promptly head out to get some coffee or tea LOL!
Happy hopping, and remember,
one lucky commenter from each day's hop will win the sets and dies featured that day, so be sure and leave a little love in the Divasphere!
Check out the
Verve Blog
today for all the prize details and deadlines.
Back tomorrow with Day 5. Only two more sleeps until the Release Party!!!
9PM Eastern, 8PM Central, 7PM Mountain, 6PM Pacific, 3PM Hawaii
You Mocha Me Crazy
Stamps: Better With You (Verve)
Paper: Stella Rose Gerttie (My Mind's Eye), Early Espresso and So Saffron (Stampin' Up!), Starbucks Coffee Sleeve
Ink: Black (Stampin' Up!)
Accessories: Scalloped Border Punch (Stampin' Up!), Mini Heart Brads (Making Memories), Half Pearls (Michael's), 5/8" Turquoise Satin Ribbon and Heart Botton (Michael's), Hemp Twine, Glue Dot, Dimensionals


Sip And Savor
Stamps: Sip and Savor (Verve Stamps)
Paper: Stella Rose Hazel (My Mind's Eye), Early Espresso and Pretty in Pink (Stampin' Up!), Cream Linen, Tan, Starbucks Coffee Sleeve
Ink: Basic Black (Stampin' Up!)
Accessories: From the Heart Die Set (A Cut Above By VERVE), Scalloped Circle Spellbinders, Threading Water Punch (Fiskars), Brown and Black Half Pearls (Michael's), Dimensionals