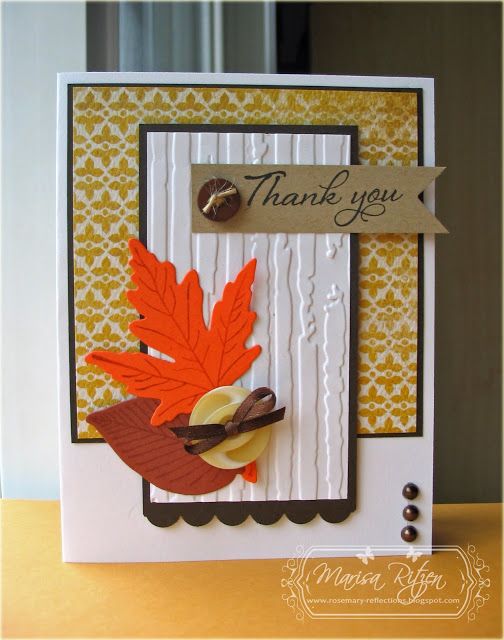 Today's card uses Verve Diva Charmaine's August sketch. Loved the simplicity of it as you can dress it up or dress it down :)
I jumped at the chance to create a Fall card as I just LOVE the colours - they give me warm fuzzies. Plus I wanted any excuse to be able to use my PTI leaf dies again - can't get enough of them!
With September around the corner and Canadian Thanksgiving only about 6 weeks away, I figured it was a great way to get a jump on some thank you cards. Susan over at
Simplicity
blog has a great challenge issued to anyone who wants to participate - to create a Gratitude Collection of cards that you can send to people at Thanksgiving, thanking them for what they mean to you. So many times we think nice things but quite often it stops there, with the thought. Can't think of a better way to express your appreciation for someone than to send them your words in a hand made card :) hat better way to express your appreciation for someone than to send them a hand made card :)
Basement clean up Part II today. Kids are still with me so that's good! Booster Juice bribe worked LOL! One run to the Sally Ann down and another one today. Can you believe I had a stash of about 50 puzzles! I looooove puzzles but the only time of year I indulge the art of making them is over Christmas Break. It's a family tradition and quite often we make at least six 1000 piece puzzles in ten days. Okay, it's an addiction, but at least I'm not the only one addicted to them LOL!
Thanks for popping in today and know I am thankful for all of you who come and visit and leave me some love (((hugs))).
What's In It?
Stamps: Autumn Splendor (Verve), Leaf Prints (PTI)
Paper: Hattie (Stella Rose), Early Espresso Cajun Craze, Only Orange and Kraft (SU)
Ink: Really Rust, and Black (SU), VersaMark
Accessories: Leaf Prints Dies (PTI), Scalloped Border Punch (SU), Distressed Stripes EF, 1/4" Brown Satin Ribbon, Buttons, Twine, Glue Dots, Dimensionals