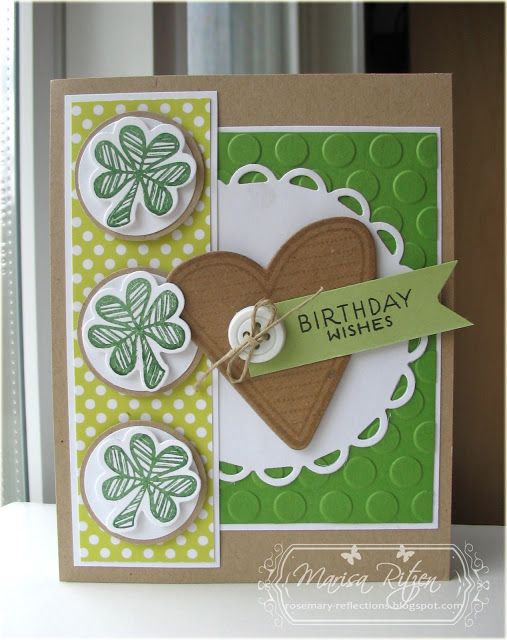 Decided to get this month's
SFYTT
done before the month slips away on me. Plus, I have a few Irish friends and two friends with birthdays on St. Patrick's Day so it was shamrocks all the way :)
Jen's sketches are usually a bit tough for me as I don't colour images with Copis to pop up and I find her layouts gravitate towards that style of stamping, and so they should as she does a fabulous job at it!!
However, this time the cold/flu meds I'm taking may have come to my rescue LOL! The three circles immediately brought shamrocks to mind. I inked up Verve's Lucky You set again and this card card was born :) Bonus: love the colour combo, hearts, polka dots and lacy nesties so I felt a whole lot better after making this card LOL!
Only glitch along the way was the fact I wanted to use the St. Patrick's Day sentiment from the set but it was too long to work well on the card so went with a birthday sentiment instead.
Good news is I feel like I am back in the land of the living again - yeah!!! Not all the way there, but at least two thirds of the way - a far cry from Sunday, that's for sure.
Have a fabulous day and thanks for popping by today :)
What's In It?
Stamps: Lucky You, Love Notes and Birthday Phrases (Verve)
Paper: Kraft, Wild Wasabi, Certainly Celery, Happy Go Lucky (Pebbles)
Ink: Green Galore, Black
Accessories: Lacy Circle Nesties, Jotted Heart and Shamrock Dies (Verve), 1 1/4 and 1 3/8 Circle Punches, Seeing Spots Embossing Folder, Button, Twine, Glue Dot, Dimesionals