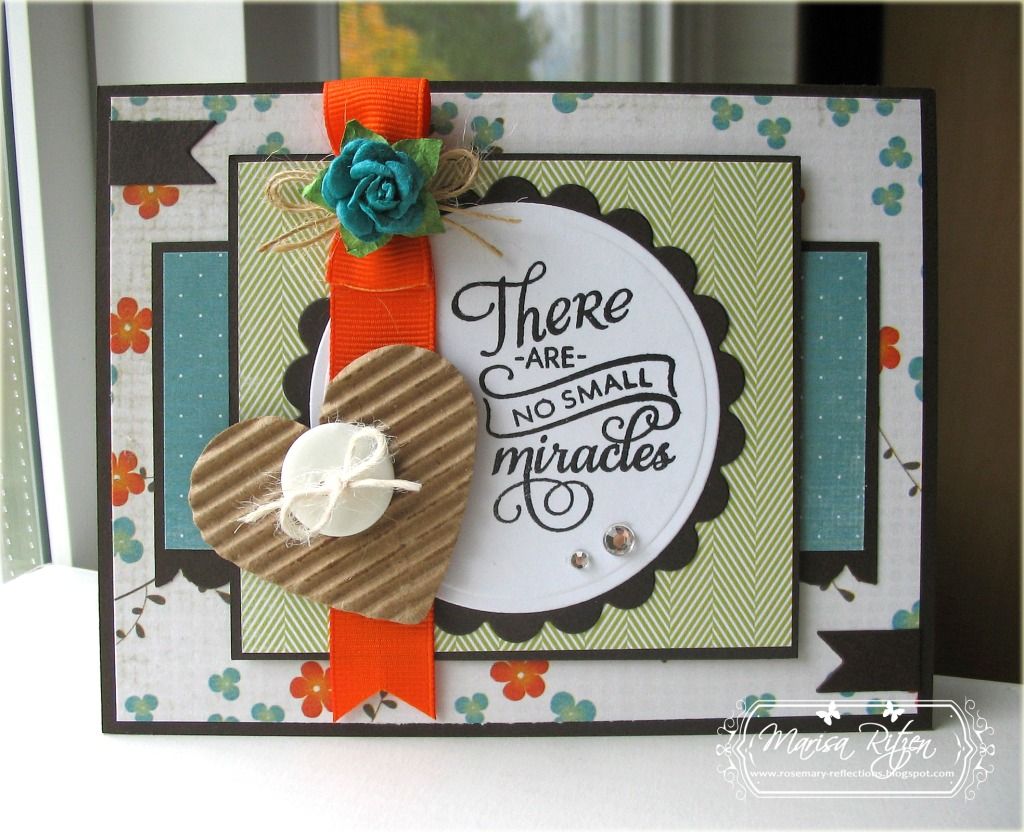 Welcome back to another
Mojo Monday
sketch. This week's sketch was fun to work with and I enjoyed opening a pack of new-to-me, MME paper called On The Bright Side.
A few layers with brown trim were the base for this fabulous sentiment which is so true! No miracle is small - love it :) They are all big to the person they happen to, be it an answered prayer; a narrow miss at injury or an accident; meeting just the right person that can help you out with a situation (job availability, referral to a good doctor, finding a good daycare provider etc.); achieving something you have been striving for for some time just when you were ready to give up; a friend calling at just the right time; a rainbow in the sky as a reminder of a promise made long ago. They have no bounds, happen all the time, and are a good thing to reflect upon. What's been your miracle?
Sorry...a bit of a detour...back to the card! I struggled a bit with the vertical ribbon banner seeming a bit plain so I added a "Starbuck's heart" (punched from a Starbuck's coffee sleeve) with a button. Still something missing so I added a touch of bling. Still not happy with things, so added the two banners in opposite corners. Phew...amazing what "I'll just add one more thing" can morph into LOL!
You can check out all the challenge details are over on the
Mojo Monday
blog and also get a chance to view all the wonderful Mojo Makers samples! Should you wish more details on their cards, you can also visit their individual blogs noted below.
Thankfully, the rain was not a part of this week's soccer game - yeah!! However the colder temperatures have set in and my toes were not happy campers by the end of the game! Time to bring out the full winter gear in order to stay warm on the sidelines. The good news...neither ran, nor snow, nor sleet, nor cold temps dampen the volume of my side line cheering! I'm such a soccer mom LOL!
Enjoy your day and have fun with the sketch :)
What's In It?
Stamps: You Lift me Up (Ve

rve)
Paper:
On the Bright Side (My Mind's Eye), Early Espresso, Starbuck's

Sleeve
Ink:
Black
Accessories:
Scalloped Circle and Circle Nesties, Heart Punch (Marvy), Paper Rose (Recollections), Button, Bling, Twine, Glue Dots

, Dimensionals