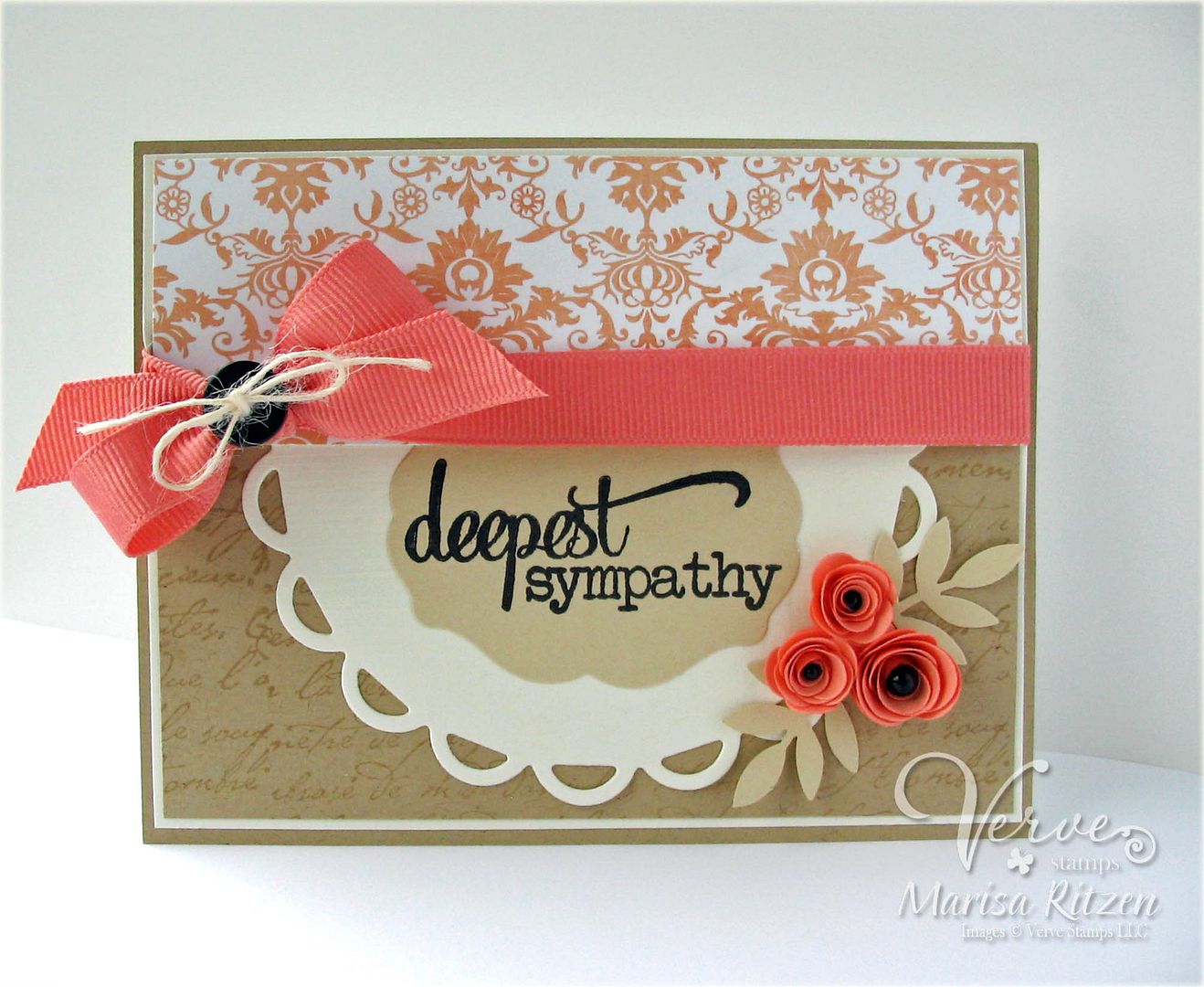 This week's colour challenge is brought to us by Vicki and it's a lovely neutral pallet with a pop of colour.
I used Verve's second May sketch with this week's colours (plus my added touch of black and cream neutrals). The sketch was making me think I really do need to get some doilies...I have managed to put it off to date as I'm not a huge fan of them, but I think the need to succumb is in order as one would have been fabulous on this card. Can you tell I do not like to follow trends that aren't "me". Yes...I'm stubborn that way LOL!
Since my sympathy card stash is non-existent at the moment, I pulled out Verve's new
Deepest Sympathy Plain Jane
and stamped it on Verve's
Curvy Bookplate
Die and layered it over my lacy circle nestability. Added a touch of cream and black neutrals to the mix and rolled a few roses to finish things off.
The rest of the JUGS

team has some wonderful samples to get your inspiration going, so just hop on over to the

Just Us Girls

blog, and check out what the Design Team has created. Then put your creative genes to work and add your card/project to the challenge post on the JUGS

blog for the chance to be selected as Chic of the Week.
Have a fabulous weekend everyone! My son has a soccer tournament so we will be spending a lot of time at the soccer pitch. Thankfully, due to late morning or early afternoon games, I will also manage to get a few sleep in days as I really do need them!! Life is slowly getting back to normal as mom is doing better every day, and the push to get the big job for hubby done is just a few days away from completion - yeah! Added bonus: we get a long weekend!
Thanks for popping by today and if all goes well, I will be much more consistent with my posting.
What's In It?
Stamps: Deep Sympathy Plain Jane (Verve Stamps), French Script (Stampin' Up)
Paper:
Kraft, Cream Linen, Tan, He Said She Said (Teresa Collins)
Ink:
Black, VersaMark
Accessories:
Lacy Circle Nestabilities (Spellbinders), Rolled Rose Dies (My Favorite Things), Leaf Punch (Martha Stewart), 5/8" Coral Grosgrain Ribbon (Michael's Ribbon Bin), Button, Black Half Pearls, Twine, Glue Dots