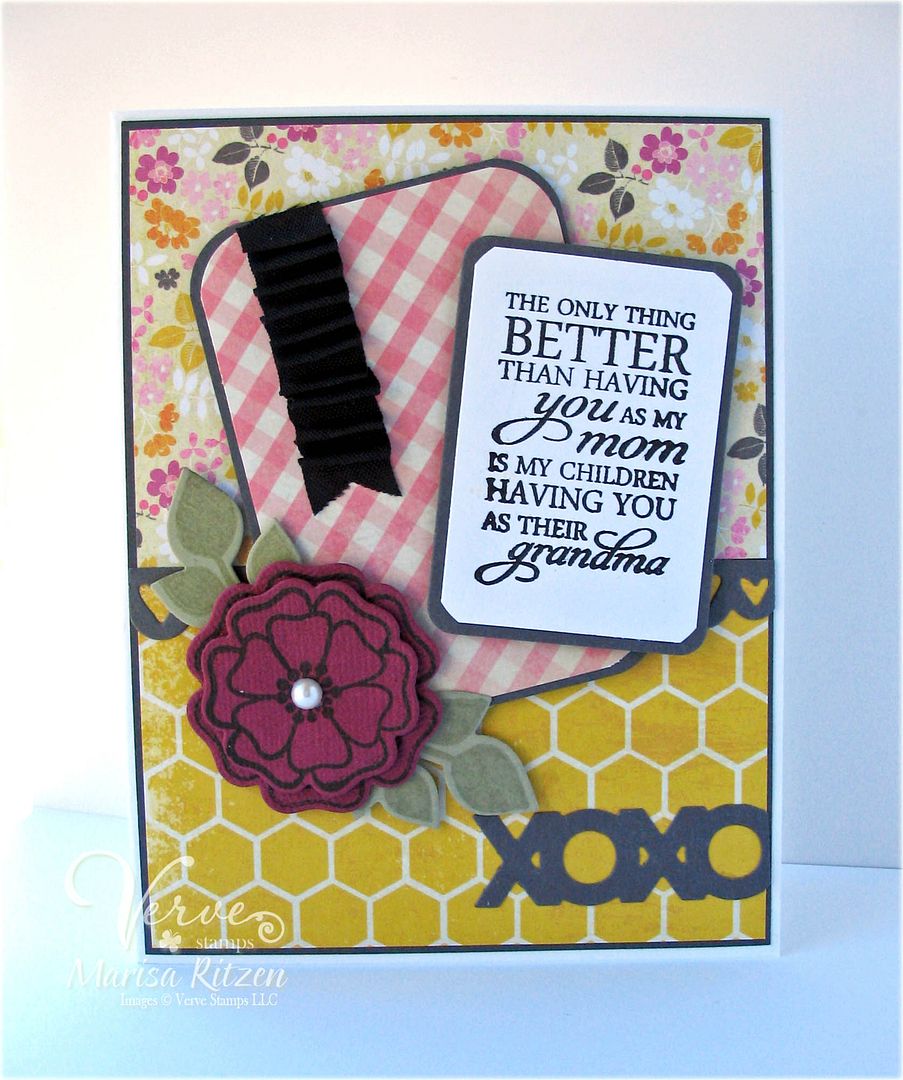 Today is contest week over on the Mojo Monday blog, and Julee has come up with another wonderful sketch for us to use! I can't believe I'm actually saying that because there is a skewed panel on the sketch LOL! Yes, any skewed panel phobia was beaten right out of me after having to deal with so many of them on the Mojo Monday blog and the weekly Verve Sketches on SCS. I am happy to report, I'm glad they did as I am quite enjoying them now. That's what I love about this wonderful hobby - always room for growth as a stamper :)
The papers were pulled from Michael's Sweetest Thing paper pack and I used Basic Grey as my accent colour. Love this fabulous sentiment from Love Deepens as it is perfect for my mom :)
You can check out all the challenge details over on the
Mojo Monday
blog and also get a chance to view all the wonderful Mojo Makers samples! Should you wish more details on their cards, you can also visit their individual blogs noted below.
I'm glad last week is over as it was a doozy. In addition to my crazy, busy schedule right now, my mom ended up in Emergency not once, but twice on Wednesday! She has atrial fibrillation which caused her heart rate to drop to 36 and her blood pressure to 77/36 -- both NOT good things! After the first bout, she stabilized and they considered it a "one off" and discharged her. However, at 2:00 a.m. that same evening, she went through the exact same symptoms and back to Emergency we went.
The good news is we already knew the nurses in ER from our earlier visit that evening, and they were simply amazing, as was the ER doctor. I could not have asked for her to be in better hands!! They shipped her off to ICU once she was stabilized and the Internist immediately booked surgery for her to get a pace maker -- which was done at 8:15 a.m. this morning. She will spend most of today in OR Recovery and then one added day back on the ward so they can ensure all systems are firing properly. A huge answer to prayer as the pace maker was an inevitability in her future. Now that she has one, we don't have to deal with the fear of potential repeats of this past Wednesday. God is good :)
Thanks for popping by today! Make sure you come back tomorrow for Day 1 Sneak Peeks of Verve's new release this Friday, May 10th!
What's In It?
Stamps: Love Deepens, Joyful Blo

oms and

Dream Big (Verve)
Paper:
The Sweetest Thing (Recollections at Michael's), Mellow Moss, Rich Razzleberry and Going Grey (Stampin' Up)
Ink:
Black
,
VersaMark
Accessories:
Scalloped Trio Trim Dies, Dreamy Leaves Di

es

, Joyful Blooms Dies, Rounded Rectangle Die (A Cut Above by Verve), XO Die (PTI),

Corner Rounder (Marvy), Black Seam Binding (Verve Seam Binding),

Double Sided Tape, Cream Half Pe

arls,

Dimensionals