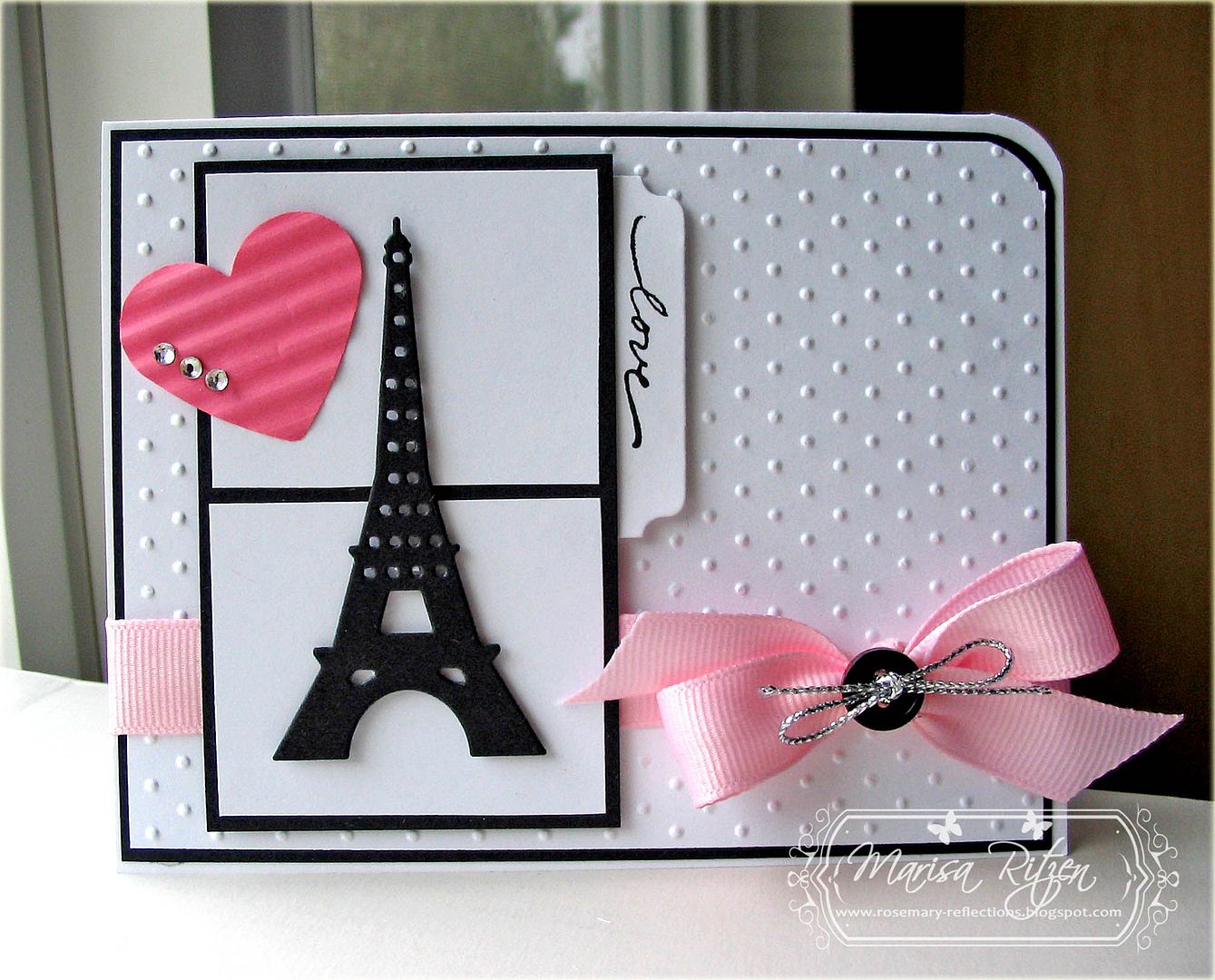 Ever have a sketch that just kicks your butt. Well, this one did it to me and I'm still sore LOL! It was just one of those sketches (sorry, Carole!).
In an effort to get some mojo going, I rotated the sketch, went with black and white with a pop of pink, and took a little creative license (aka: omitting the three dots on the one panel and subbing a sentiment panel for them instead).
Figured my Eiffel tower die could cover a multitude of sins as Paris is the "city of love" and love forgives "creative license" LOL! Some Swiss dots in the background added ab it of texture, blinged up the heart a bit, and rounded the top corner to "fill in" that space a bit. Phew! That
was a brain burner, and as with any challenge, it feels great to have completed it :)
You can check out all the challenge details over on the Mojo Monday blog and also get a chance to view all the wonderful Mojo Makers samples! Should you wish more details on their cards, you can also visit their individual blogs noted below.


Off to do some birthday celebrating today :) Chef hubby will be cooking up some BBQ ribs tonite and I can't think of a better way to celebrate than a home cooked dinner with my family :) If all goes well, I won't even have to do any clean up wink, wink!

Have a fabulous day, and I look forward to seeing how you tackle this sketch!
Challenges:
Dor
cerela (He

art and Button)
What's In It?
Stamps: Rubber Soul
Paper: Black, Pretty in Pink, Rose Romance
Ink: Black
Accessories: Eiffel Tower Die (My Favorite Things), Heart Punch (Marvy), Swiss Dots Embossing Folder, Crimper, Corner Rounder, 5/8" Pink Grosgrain Ribbon, Black Button, Bling, Glue Dots, Dimensionals